THE MARTIN AND LEWIS RADIO SHOW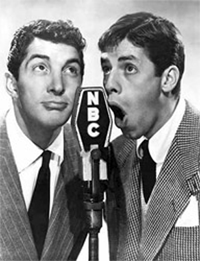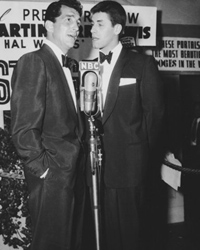 Dean and Jerry started their radio show together in 1949. These shows prove how maniacally funny and impromptu Jerry really was, and well as Dean who went right along with the ad lib zaniness.

You will hear their secretary with the funny nasal voice, named "Flo." Well, this really is Flo. Florence MacDaniel, and if you want a good look at her, look her up on "Mr. Ed" shows as Wilbur's neighbor "Winnie" and her husband "Col. Kirkwood" (Leon Ames). I always loved Winnie, and when I found out she was also Dean and Jerry's secretary "Flo," I said "Wow."
These radio shows will not only entertain you, but show you how very funny Dean and Jerry were, especially Jerry with his ad libs. The speed of the shows is fast and the funnies come at you like machine gun fire. So, be prepared.
---
With Lucille Ball
This is the very first Dean Martin-Jerry Lewis radio show 1949, starring Lucille Ball.

With Georgie Jessel
Lots of singing. Georgie imitates his buddy Eddie Cantor, Jerry imitates Georgie, and the finale is a an incredible barbershop rendition of "Oh, you beautiful doll," with Georgie, Jerry and Dean.

With Jane Russell
Dean and Jerry decide they need a secretary and Jane disguises herself to get the job. Jerry tells this unknown secretary how Jane Russell has fallen for him.

With John Carradine
John's nephew is a bookworm wimp until Jerry gets ahold of him and teaches him how to get jazzy and belt out "Darktown Strutters Blues."

With Tony Martin
Dean and Tony go to court over use of the name "Martin."

With Victor Moore
Dean and Jerry need a loan to start a nightclub and go to Victor Moore for a loan. Victor's wimpy voice is hysterical over radio.

AD LIB
Dean and Jerry often got into ad lib funny arguments. Here is one.

With opera soprano, Dorothy Kierston
Dean and Dorothy do fantastic job of Berlin's "Let's take an old-fashioned walk."

With Frank Sinatra
This show went 45 minutes with Frank and the boys.

"South Pacific" Dean and Jerry try to get tickets to see "South Pacific."

With Willam Bendix Jerry "helps" William get a job.

With Hopalong Cassidy
The subject is "animal husbandry." Jerry thinks this is a "Lonely Hearts Club" for animals.

With Mona Freeman
Hysterical skit of Jerry playing an eskimo called "Nanook the Schnook."

With Marilyn Maxwell
Jerry tells Dean he is secretly in love with Marilyn Maxwell. Dean tells Marilyn so she will try to let Jerry down easy like. Hysterical results.